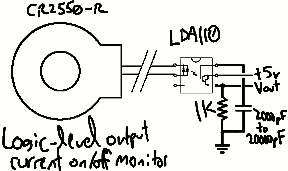 The CR-2550R is a very simple and cheap AC current sensor. All it is is a coil and a LED -- when it picks up enough current by induction(from one wire passing through the center), the LED is able to light.
That the coil itself is able to light the LED is interesting. That's more than enough to trigger other electronics, we just need to rectify and smooth the output into something digitally useful, and that can all be done by putting one chip to an unexpected purpose -- an optoisolator.
An AC optoisolator, to be specific. I use the LDA110 since it's cheap, has very high gain, has two photoemitters to effectively use both halves of an AC input signal, and gives us a base pin. Note we're not providing an analog voltage -- this is an on/off indicator.
The CR2550R is able to drive the LDA110 directly with no current limiting. You may want to limit it a little for very high currents, but I'm not sure that's necessary either -- the coil seems to saturate pretty quickly. On the other side of the optoisolator, I use the transistor as a simple amplifier, with Vout providing logic low when there's no current and logic high when there is.
The capacitor between base and ground is significant, as it's what turns the optoisolator's 120hz pulses into logic level DC. Even with fairly small values (10,000pF) the fall time (rise time, not so much) can be significant, but with values below 6,800pF some devices (like CFL lamps) can cause unacceptable ripple in the output because of the nonlinear way they use power.
Lastly: Though the CR2550-R is rated to detect 3/4A of current, you can detect smaller currents by wrapping the wire being sensed through the core several times. With one loop this circuit was able to detect a CFL lamp rated at 220ma.